Today is just one of those gloomy days. It's dark, dreary, and raining. Plus I just found out that I did not get the internship I wanted. Of course I have other options but this was the one I was dreaming of. My sister recommended I reapply once I have added some more experience to my resume. We'll see.
On a positive note, I have started the
Wardrobe Series
from
Fabulously Broke in the City
and it is going quite well.
Here's the situation before (I forgot to take pictures of everything squished in the closet):
(and this is minus the winter stuff (sweaters, etc) I keep in DC!)
I have decided to try to sell/consign some items,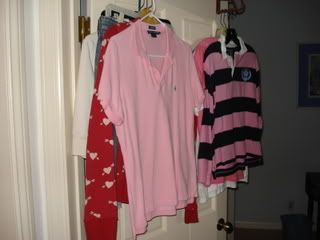 and donate others to Goodwill. I also have a pile of clothing I'm not sure about so my sister is going to be my second opinion on them